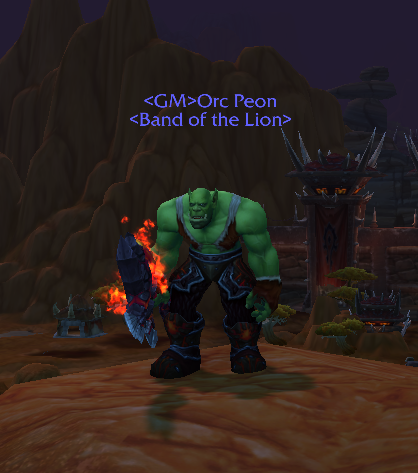 Name:
Gor'lug
Race:
Orc
Gender:
Male
Class:
Peon/Elemental Warrior?
Age:
26
Dragonsworn?:
N/A
Dragonflight Alignment:
None
Physique Type:
Muscular
Choice of magic:
Fire/Magma
Language(s):
Orcish, Common
View of Heartwing:
Neutral until a close up look at what it is in general. He will judge Heartwing when he gets a chance to understand who and what's in it , the rules and regulations and what he will have to do to be in it.
Behaviour:
Mostly nice towards other people, but even one slip up and someone's on his list for people to kill. He's very vindictive and brutal when it comes to combat.
Character Personality:
This is kind of like asking me to describe my own personality. I honestly have no clue. Sometimes he will act a certain way and sometimes he'll act another way. It all depends on who i'm RPing with, where i'm RPing and how i'm feeling IRL.
Character progression goal(s):
Not much, honestly. I just want somewhere for him to call "home".
Interest(s):
Uh.. building stuff.. chopping lumber and y'know killing the occasional bad guys.
Minor spell(s):
Firebolts? very small things like that.
Prestige spell(s):
None atm, will have him learn spells over time as he is very VERY new to magic
Character most challenged at:
Probably with his new abilities and weapon.
Backstory:
Take this as you will, but I don't actually have a backstory for this character besides random bits of stuff I've said out through RP so I'm going to make up something here on the spot.
Gor'lug was abandoned by his parents at a young age due to them not being able to take care of him and not wanting the responsibility of a child. He had no education, no home or income and was forced into the job of a Peon. He worked hours and hours every day to fulfill his task and do his task correctly. He never knew any different from his life until he eventually grew tired of the constant war and battle that went on in Azeroth. He decided to do his own thing and went about the world helping other people who needed someone with his set of skills. His extremely fit and muscular physique gives him a decent advantage over his enemies and makes his job ten times easier than it already is. His life was mostly the same the entire time he's been alive. Waking up, chopping wood, delivering the wood and constructing builds for the Horde. After wandering hours and hours endlessly trying to find somewhere to finally settle down at, he was called on once again. He and a group of adventurers and mercenaries had to fight a giant undead golem. He had equipped his armor and axe and headed into the fight, but during the battle something happened that would change his way of thinking. His axe transformed into a magical-firey-glow-axe thing. (don't know what to call it) and gave him a stronger build and faster reaction timing. The undead creature was killed but the axe still remained and he was confused. He took it to a group of druids and shamans and they had guessed he was blessed by the elements to be a warrior. He took it upon himself to get something to wear besides cloth clothing and went on to find himself a new path. That's where we are today.
(IC) How much does your mortal know about dragons?:
None at all, actually.
(OOC) How much does you know about dragon lore?:
None.. at all.
(IC) Reason to join
He just wants somewhere to call home and find somewhere to settle down. He usually likes building things and helping people out as he is an Orc Peon. He will fight for what he has to when he needs to however. He's decently strong and can take an extreme amount of hits and get up every time.
(OOC) Reason to join
I just want somewhere to RP properly without having a bunch of idiots ruin it.
Timezone/Availability
I'm 15 and homeschooled, I'm pretty much on my computer the entire day and do nothing else. I'm free to come in any time if someone pings me on discord.
What other roleplay have you done before this character?
I've been RPing on WoW since 2012 starting with PTR. I started RPH in 2015 and sometimes quit the game for a bit to come back eventually.
Are you aware of the guild rules, the content of the Tome of Ancient Times forum and the lore of your dragonflight?:
Yes
Have you understood current timeline of Heartwing?:
Possibly
Do you fully understand the lore of your dragonflight, and other essential lore information:
Yes?
Is your real life age over the age of 13?:
Yes