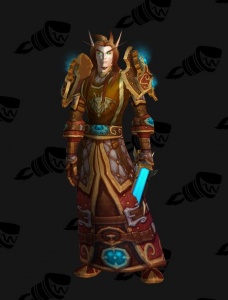 Dragonflight:
#DAA520
Dragon Name:
Erzadormu
Aliases:
Erza Lockwood (Current), Cordova Lor'daras (Former)
Age:
39
Gender:
Male
Adulthood:
Drake
Loyalty(-ies):
Bronze Dragonflight, Timewalkers, Keepers of Time
View of Heartwing:
Erzadormu as a whole is very spontaneous and outgoing. He would view Heartwing as a grand opportunity to grow and learn more about himself and others. His first order of business, would be to research as much about its history as he could.
Behaviour:
Erzadormu is extremely inquisitive around people, especially mortals. His mind can be all over the place at times,
Key traits:
Inquisitive, Cunning, and Loyal
Respect for authority:
Erzadormu has great respect for authority, even if he wishes to be the one on top. He knows his place, and knows there's is a reason for it. He believes he will grow when his time comes, and if that means being a follower, then so be it. Besides, it means he can study more!
Character Personality:
Erzadormu is rather, strange, to say the least. Aside from the fact that he can be easily distracted, his vast array of knowledge is definitely there. Despite his attention span, Erza is extremely friendly and welcoming. Once he's become attached to you, he is loyal to you until the end. His heart is strong, and even today, continued to fight for what he perceives to be true: all creatures are one as long as they live on Azeroth.
Hobbies:
Erzadormu considers himself a great historian. His passion for reading and learning is endless, and he will almost always be found with a book. Erza has also been known to be fascinated with alchemy, and created his own potions on occasion. However whether they are actually successful is questionable.
Character progression goal(s):
I hope to flesh out more of his character and detail in the future. As for Erzadormu, I can see him growing more mature over the years he spends with Heartwing, as well as grow his sense of justice.
Common spells:
Sand Breath: As a Bronze Dragon, Erzadormu is capable of using the generic breath of his flight.
Prestige spells:
Time Manipulation: Erzadormu was once a novice at overseeing the protection of Azeroth's timelines. After the fall of the Aspects, and his flight's loss of power, he is now limited to just exploring rather then physically changing.
Character most challenged at:
Erzadormu definitely feels challenged the most when it comes to his mental capability. He finds it hard to concentrate and as much as he loves to learn, finds it hard to retain information for long. His memories seem to be scattered, as if sprinkled throughout time itself.
Backstory Summary:
Erzadormu was born within the Caverns of Time, approximately 3-4 years before the Dark Portal. He grew up with an unwavering passion for the world, and ultimately began training to become one of the many guardians of time, just like the rest of his flight. The idea of how time simply flowed, and that was even a single change in a thread could undo the balance fascinated the young drake.
However, during the events of Draenor and the Dark Portal, his fascination got to the best of him. In an attempt to explore and learn more, Erzadormu ignored the fact that his flight was not as powerful as they once were. Attempting to travel the timelines, his body could not handle it, and his memories became scattered.
Now he wanders Azeroth, with a strong craving for knowledge.
First time at dragon roleplay?
I have had a few experiences when it comes to role playing dragons. Most notably Erza and a blue dragon I don't use much anymore. These roleplays were specifically with a small group of friends on MoonGuard. I understand the idea of Erza being a dragon is to be kept secret, and aside from his general name tag in game, in character he has never mentioned it whatsoever.
(IC) Reason to join:
Erzadormu would wish to join Heartwing, not just to grow his array of knowledge, but to find himself again. He hopes that the journey he has with Heartwing, will help him reclaim his lost memories of the past.
(OOC) Reason to join:
I want to join a community in which roleplaying a dragon is not frowned upon. I love writing and creating my own characters, and bringing them to life, Erzadormu being one of my first. However I had never actually created or roleplayed him much in game due to the vast criticism people seem to have against dragon RPers.
Timezone/Availability
New York EST, I am a college student. My classes are night classes, usually on Tuesday, sometimes Monday nights. My work schedule fluctuates, but I am pretty much always available during the weekends.
Are you aware of the guild rules, the content of the Tome of Ancient Times forum and the lore of your dragonflight?:
Yes
Have you understood current timeline of Heartwing?:
Yes
Do you fully understand the lore of your dragonflight, and other essential lore information:
Yes
Is your real life age over the age of 13?:
Yes