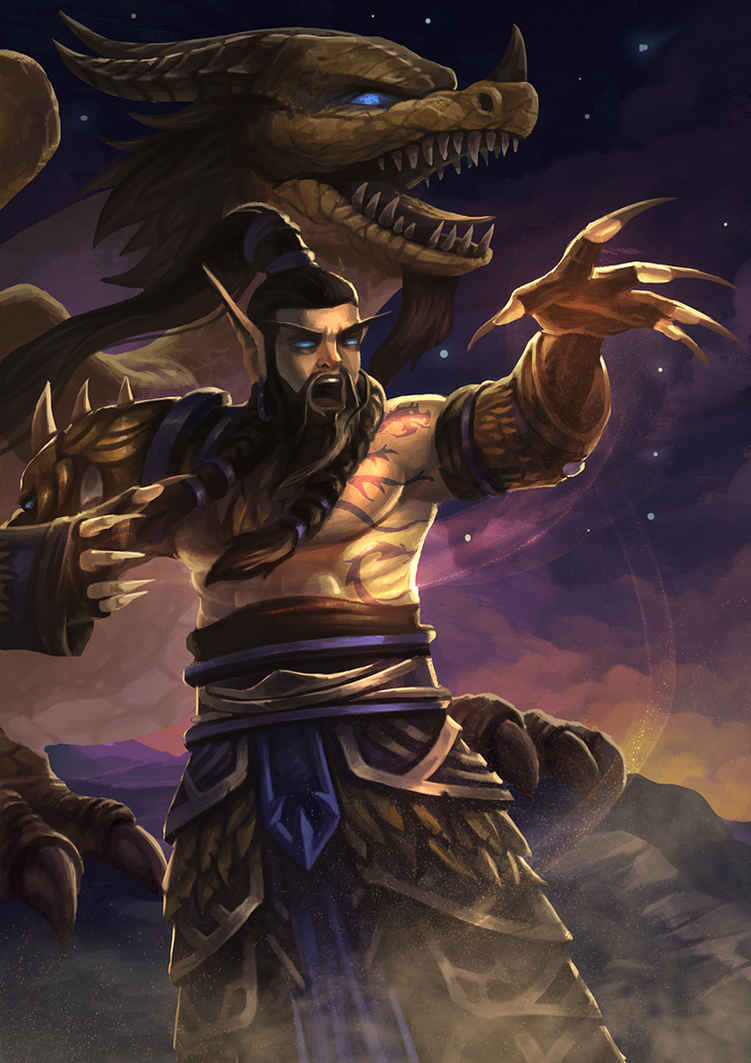 Dragonflight:
Bronze Dragonflight
Dragon Name:
Kerodormu
Aliases:
Kerthorian Silverspear
Age:
439
Gender:
Male
Adulthood:
Matured Dragon
Loyalty(-ies):
The Bronze Dragonflight, Wyrmrest Accord, The High Elves of Quel'thalas (Previously)
View of Heartwing:
Kerodormu views Heartwing as a possible ally to aid against the Legion who's Shal'dorei allies have been delving far to deep into the art of Chronomancy.
Behaviour:
Kerodormu's behavior is very simple, he is a cold pragmatist who is almost always serious and is rarely sarcastic. Kerodormu typically always means business and rarely indulges in vices that most other Dragons would probably indulge in, however Kerodormu is a skilled deceiver as he had to be to blend in so well with the High Elves of Quel'thalas for centuries without being suspected and so he can feign personality and behavioral traits very well.
Key traits:
Loyalty, Intelligence, Experience, and Tactfulness
Respect for authority:
Kerodormu has a deep respect for his superiors no matter their power on a physical or magical level. Kerodormu typically switches to a very military fanatic mindset when it comes to authoritarian figures, taking up any charge given to him with complete and utter devotion and rarely bringing up any arguments unless he thinks it absolutely necessary.
Character Personality:
My character is a cold pragmatist who's driven by his belief that the Infinite Dragonflight is a grave threat and that mortal tampering with time should be stopped with drastic measures. Kerodormu is very serious and typically is viewed as a cold logical being.
Hobbies:
Studying Mortal History and learning new Fields of Magic
Character progression goal(s):
I hope to start out as a subordinate and hopefully one day work to a higher position through progression
Common spells:
Kerodormu uses a variety of Arcane an Sand based spells
Prestige spells:
Kerodormu's grandest displays of power are typically shown in the ability to freeze his enemies in time or creatre Golems of Sand to fight at his side in the midst of battle. The most deadly display of his power is when he breathes a sea of superheated sand that burns with such intensity that you'd think it was molten lava.
Character most challenged at:
Kerodormu has a hard time of thinking outside the box, everything is very orderly to him due to his Flights unique ability to see the future and the endless timelines.
Backstory Summary:
Kerodormu was born Four Hundred and Eight years ago to Keodormu and his Consort Zoridormi in the Caverns of Time. Kerodormu till the age of Twenty Eight stayed in the Caverns of Time where he learned about the history of the Dragons, his Flight, and the charge he was born to take up and once he was ready he was sent out into the mortal world to observe and report if there was any abuse of Chronomancy. Kerodormu was sent into the mortal society of the High Elves of Quel'thalas where he took the guise of a young High Elf Arcanist. For centuries Kerodormu stood by the High Elves and even began to form close friendships with mortals. When the Scourge sacked Quel'thalas, Kerodormu left the mortals to report the calamity to the Bronze Dragonflight who did nothing in response to the genocide of the mortal race. For decades Kerodormu remained in the Caverns of Time with the new charge of being a low protectorate of the Caverns due to vocalizing his anger for his Dragonflights inaction when the Elves were slaughtered by the Scourge, it was only until the Cataclysm rocked the World that Kerodormu was unleashed to fight the Infinite Dragonflights attempts at tampering with time, it was then that he was sent to various timelines to thwart their efforts to change history. What Kerodormu has done for the past several years is unknown though he probably has remained in other timelines to thwart Infinite Dragonflight tampering but what is known is that he is now back in the main timeline with the intent of finding a way to stop the Infinites once and for all.
First time at dragon roleplay?
I have experience with Blue Dragon roleplay
(IC) Reason to join:
He believes the Heartwing are the key to stopping the Legion and the reckless delving into Chronomancy by their allies.
(OOC) Reason to join:
Not really a lot of other places to go for Dragon Roleplay since most places don't accept them.
Timezone/Availability
I don't work on Monday, Tuesday, and sometimes I don't on Wednesday. I do work on Thursday, Friday, Saturday and Sunday but typically they are all shifts in the morning.
Are you aware of the guild rules, the content of the Tome of Ancient Times forum and the lore of your dragonflight?:
Yes
Have you understood current timeline of Heartwing?:
Yes
Do you fully understand the lore of your dragonflight, and other essential lore information:
Yes
Is your real life age over the age of 13?:
Yes